kemaren gue ketemu temen laki gue yang baru pulang ke ibukota.

and guess what?
he's getting fatter than before, lols.
kita double date dan ngabisin waktu di timezone. main game yang kaya tangkis-tangkisan gitu, tau ga? yang kaya gini deh.
REALLY in ♥ with him ;"p
barack oh barack! waktu lagi election waktu itu, gue ngedukung beliau banget.
selain karena dia pernah tinggal sebentar di Indo, tapi juga karena dia jauhhhh lebih ganteng dari si John McCain, wehehehe.
tampang kelincinya surprise gitu bisa deket obama (padahal guenya aja yang sirik)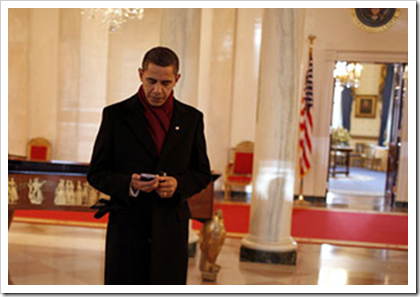 "update status dulu ahh..."

barack berry prototype
saking cintanya sama blackberry, barack sampe ngotot pengen tetep kekeuh pake blackberry walaupun udah jadi presiden US. yah, gara-gara dia presiden juga, makanya dibuatlah tipe blackberry
khusus
buat barack. lengkap dengan keamanan tingkat tinggi yang cuma digunain sama NASA buat nyimpen email-email di bb nya.
it's just so W.O.W!
:O~